Despite the recent bad news of being delayed to an unknown date in 2021, Outriders continues to draw a lot of expectations. This intense and brutal TPS promises an action-packed journey in a dark sci-fi universe which just ticks all the boxes between an epic story and complex RPG elements. As the polish developers just unveiled the expeditions, a post-game content perfect to enjoy the game a little longer, we had the incredible chance to ask them a few questions.
Hello ! Can you introduce yourself and People Can Fly ?
My name is Bartek Kmita and I am the Creative Director of Outriders at People Can Fly.
People Can Fly is a Polish development studio that started up back in 2002. We've specialized in creating shooters, and have created games like Painkiller, Bulletstorm and Gears of War Judgment. We were also a part of Epic for some time, where we worked on games like Fortnite.
Outriders is our first game since we moved on from the Epic partnership, and is by far the biggest, most ambitious game we've ever developed.
Stadia players are really happy to see that there are more and more new games like Outriders coming to their favorite gaming platform. Why did you decide to port Outriders on Stadia ? What are the reasons behind that decision ? Is that something Square Enix or you wanted to do ? Maybe both of you ?
We want as many players to have access to Outriders as possible, and the unique technology of Stadia makes for a really exciting platform to host our game. Not everyone has access to a console or a gaming PC, and we feel like Stadia is a great way for players to experience our game in a way that takes away the need to own additional hardware.
Thanks to the Outriders Broadcasts, we have a preview of what looks like a massive world and a rich gameplay. Can you tell us more about the game and its content ? People seem to expect a long-term experience but the game really has an end, right ?
Outriders definitely has an end. We're not a games as a service title, and we're not trying to keep players tied into a content calendar for the next six months, we're an epic action-filled RPG-Shooter where you get the full experience in the box on launch day. While we do feature a challenging post-campaign experience called Expeditions, for players who would like to spend more time in the world of Outriders after finishing the campaign, the journey is very much the goal in Outriders.
There are loots like Destiny, an elaborate world and story like Mass Effect and an explosive gameplay like Gears of War. Did you get any inspiration from these games, maybe from others ? Which elements forge Outriders own identity ?
Our inspiration doesn't really come from the titles you might expect, it's more about our history as a studio and what we loved growing up. Outriders represents everything we have done as a studio in the past, it is in many ways the culmination of all our experiences in working on a lot of great shooters. It's also the representation of our passion as gamers. We love shooters, obviously, but we're also big fans of RPG's. We were really inspired by classic RPG's, like Diablo for example. That's one of the favourite games of many of us on the team.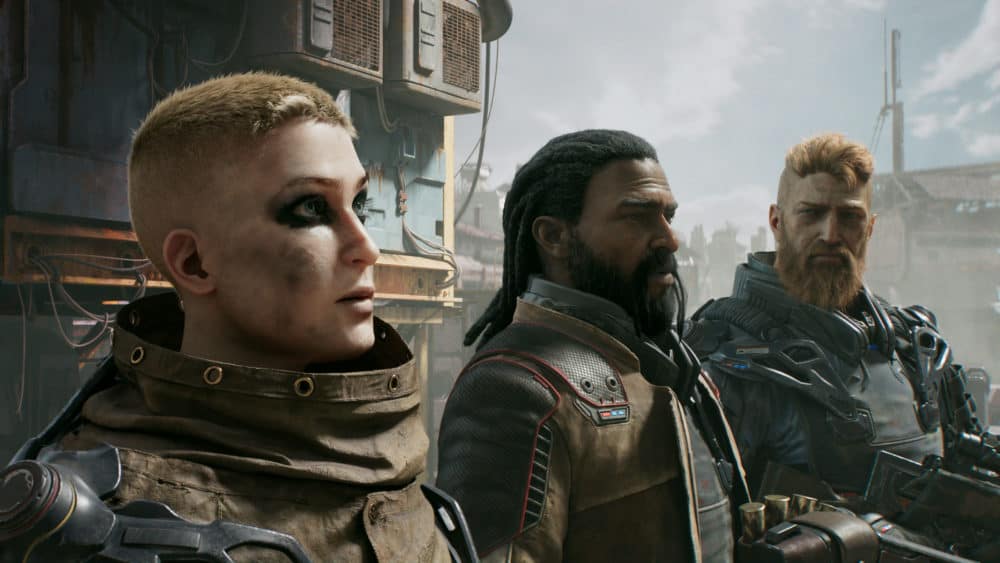 We knew that we wanted to do what we are experts at in creating a shooter, but also experiment with deep RPG mechanics as well, which is new for us as a team. We resolved to create the game we always wanted to play, but no one has quite made yet.
With us having a history with the Gears of War franchise, we didn't want to make something that's basically a new Gears game with loot, we needed to switch things up and create our own flavour of 3rd person shooting. Create a new 3rd person shooter identity.
The answer to that identity is in our powers and the high-intensity aggressive gameplay. Our goal was to create a combat system that's a near 50/50 split between guns and powers, where you don't actually need to rely on cover. A shooter where you don't necessarily spend all your time shooting, but rather wielding incredible powers that decimate your foes while moving around the battlefield with a lot of mobility.
Outriders will be released on nearly all platforms and also on next-gen platforms. Can you tell us where the Stadia version stands in terms of performances and graphics quality ?
We can't share too many details about the Stadia version at this point, but rest assured that the Stadia version of Outriders will be representative of the best quality we can achieve.
Let's talk about Stadia now. Google is known to willingly help developers porting their games to their cloud gaming platform. Do you get any help from Google and, if so, how does it all go ? Do you face any difficulties during the development of the game ?
We're can't really discuss development details or the business aspect of the deals between Google and Square Enix, but Google have been a great partner for us and are really helpful in providing insight and guidance as to how we can make the most out of Stadia as a platform for our game.
Is the development of a game for a cloud gaming platform like Stadia different from developing a game for any other platform ? Are there any guidelines that must be met related to Stadia particularities ?
Making our game suitable for Stadia is actually a fairly streamlined process and we don't have to make any major changes to our game to work on the platform. As I mentioned before, we can't really discuss any further details around development.
The health crisis we're facing has forced all the developers to set up specific measures to help their employees to continue to work on their games. Google has a whole development environment in the cloud. Can you tell us more about how you handled those difficulties so that Outriders can still meet its deadline ?
The pandemic is presenting some serious challenges for development for sure. We've been able to manage it without affecting development timelines too much. We responded quite early by allowing our staff to move to a work from home environment, and of course this meant we had to resolve all the technical and security issues around moving hundreds of people who all need quite a lot of equipment into remote working situations.
We were pretty lucky, in that most of the mocap and performance recording for the game was already done when the pandemic hit, so we didn't have a huge amount of things to do where we needed to put crews together on a set for example, which is still a challenge to this day. In some ways, working remotely has helped us a lot in terms of communication and changing our working culture into using more online platforms to coordinate the project.
With Stadia, players can enjoy their favorite games on many different devices and more particularly on mobiles. Is this something that had an impact on how you approach the Stadia port or on how you will develop your games in the future ?
We're not approaching the Stadia version in a different way than the other platforms, it's the same as all the other versions and will deliver the same experience for Stadia players.
When we think about Stadia and multiplayer games like Outriders, the first thing that comes to mind are Stadia unique functionalities like Crowd Play, Crowd Choice and Stream Connect. Is this something you looked into and will there be any of these functionalities implemented in the game ?
We can't discuss Stadia features at this point unfortunately. We'll have more to announce on that soon!
People Can Fly is split into five studios in Poland, England and United States. You're currently actively recruiting for your next AAA to be released on all platforms. Maybe we can have a glimpse on what we can expect ?
I can't tell you anything about that, it's secret! 😀
Thanks for taking your time to answer our questions and a big thank you from everyone in the Stadia Fr french community !